Skip to Content
Tire Changes and Repairs
Tires keep your car running smoothly on the road. A tiny loss in pressure in one tire can affect the other four. Also, how you can you tell when you need to have one or more tires replaced or rotated? You can't afford to play a guessing game when it comes to something as important as your tires.
Luckily, Millwoods Auto Inspection & Repairs in Edmonton, AB, is here with valuable information to help you maintain the quality of your tires for the optimal function of your vehicle. Here's a little bit of basic information about the tires on your vehicle and why you should leave most of the work to the experts at our auto shop: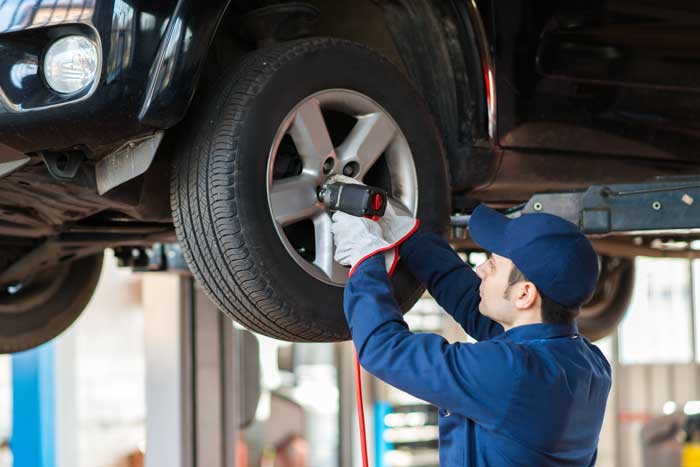 Tire Repair
When you drive over a nail, you may not notice right away. A nail or other sharp object embedded in your tire can cause a slow, sometimes minor, leak. If you can't find the source of the leak, don't keep adding more air to the tire; bring it into Millwoods Auto Inspection & Repairs as soon as possible.
If the tire is able to be repaired, our team of experts can patch it to seal the leak. Unfortunately, in some cases, a flat or leaking tire is not able to be repaired. In the case of tire replacement, we have a wide variety of high-quality new and used tires for you to purchase.
Tire Rotations
When you notice uneven wear on different tires on your vehicle, the issue may be inflation, or it may be due to your driving habits. Use a pressure gauge to check that the inflation levels on all four tires are at the correct levels. Either way, you should get your tires rotated regularly.
Tire rotations should be done every 5,000 to 8,000 miles on most vehicles, but if you're getting regular inspections done on your vehicle, make sure your technicians take note of tire wear patterns.
Tire Sales
After five years, it's recommended that you have your tires checked annually for signs of wear and tear that warrant replacement. Generally, 10 years is about the longest you want to drive on the same tires. Whether you're replacing one tire after a flat or replacing all four, our auto shop has a wide selection to choose from.
Ask an expert at Millwoods Auto Inspection & Repairs today for advice on which tires to purchase for your vehicle. We'll help you make a decision based on the vehicle itself as well as your driving needs and road habits. When you've chosen one or more new tires, we'll ensure that they are mounted, aligned, and inflated to the optimal level to reduce unnecessary wear.
New vs. used: If you're looking to save money, you don't necessarily need to buy new tires; some used tires are in great condition and will work for your vehicle. However, don't buy used tires if you don't know and trust the people selling them to you. They may have defects and imperfections unnoticeable to you that will cost you more money in the long run.
All-season vs. winter tires: All-season tires are meant for areas where the snowfall and icy winter conditions are minimal. As a tire dealer in Edmonton, AB, we don't recommend using all-season tires during Canada's harsh winters.
Keep Your Car Running Smoothly